How To Get Around?
Gustavia doesn't have public transportation, but it's delightfully walkable. Strolling your way between boutiques, restaurants, and Shell Beach makes an enjoyable day in the St. Barts capital.
You'll definitely want a car to access other parts of the island, including nearby attractions such as Corossol and Lorient beaches. Your own rental car on St Barts is unquestionably the best choice for around-the-island transportation.
History Of Gustavia
Not surprisingly, St Barts's capital is the best destination for tapping into the island's history. This lively harbor town wears signs of its past amid the pleasant modern-day bustle.
The origins of the name Le Carénage
During their 17th-century occupation of St Barthelemy, the French named the tiny villa with the protected natural harbor Le Carénage. That label reflected this sheltered bay's suitability as a place to careen ships: that is, in the absence of a dry dock, to partly turn them over to clean or repair hulls.
St Barts' Pirate Days
Life was hard in St Barts in the 1600s and 1700s as there was no natural source of water, and the mountainous island was difficult to grow anything on. French settlement on St Barts didn't really commence until the late 1700s, with the few inhabitants involved in subsistence-farming-based, and some trading. The protected harbor of Le Carenage with its modest hills offering sites for observation was however a haven for Caribbean pirates.
Among the French buccaneers said to have regularly used it between pillaging Spanish ships was Monbars the Exterminator (aka Daniel Monbars).
Rumor has it Monbars used Le Carenage/Gustavia as a base of operations periodically. It is also rumored that he buried treasure under the sands of either Governeur or Saline beaches on St Barts.
Founding of Gustavia
In 1784, King Louis XVI of France gave St Barts to Sweden in exchange for trading rights in Gothenburg. This launched what's sometimes called the island's "Swedish century," much of it a time of great prosperity on Saint Barthélemy.
Le Carénage was renamed Gustavia to honor the King of Sweden, Gustav III, who made it a free port. (Gustavia and St Barts, in general, remain duty-free!)
Gustavia flourished under the island's Swedish control, with its docks and warehouses serving maritime trade.
The local economy of the island thrived for decades before a hurricane, and a catastrophic fire in 1852 fire destroyed port and warehousing facilities, and brought on harder times. France bought St Barts back from Sweden in 1878.
Even after centuries of French possession, evidence of Gustavia's Swedish heritage remains, not least in the ruins of three harbor-guarding forts: Karl, Oscar, and Gustav. (The site of Fort Gustav is occupied by the famous Gustavia Lighthouse.)
Some street signs in town include both French and Swedish labels, and the former residence of the Swedish colonial governors is Gustavia's town hall.
Gustavia Harbor/Marina – Port Of Gustavia
Gustavia's beautiful harbor includes the Port de Gustavia, with a commercial port and marina. With a 13- to 16-foot depth, the harbor offers mooring/docking for about 40 or so yachts.
It includes such amenities as a fuel dock, ship store, and dive shop, plus easy access to downtown. There are plenty of shops and restaurants along the waterfront, and many establishments and vantages around town offer great views of the harbor.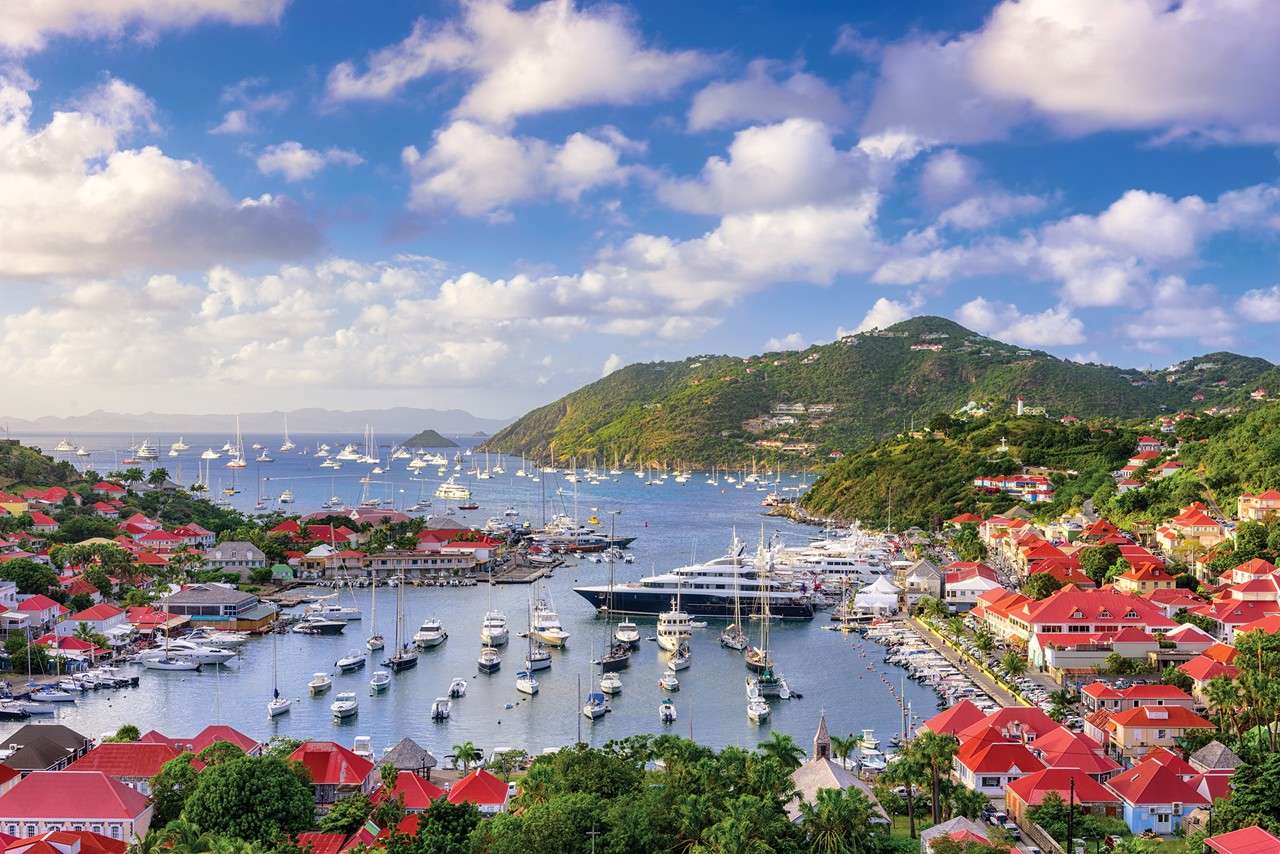 Port of Gustavia
Heads up: Before entering the Port de Gustavia harbor, you need to arrange authorization from the Port Office.